Rubber Floor Cable Tidy Protector, 76mm x 14mm
Delivery estimate : Next day (order by 3pm)
Profile dimensions (WxH): 76mm x 14mm
Internal chamber (WxH): 25mm x 10mm
Lengths: 9m
Colour: Black
Flexible PVC Floor Cable Protector to Cover Trailing Cables
The PVC floor cable protector features a non-slip base which keeps the cable protector in place on virtually any floor type. The ramped sides reduce the risk of tripping and allows for the safe passage of pedestrians, hand carts and trolleys, without causing damage to the cables or the equipment they are connected to.
The lengths can be easily cut to size, and the back slit open for easy insertion of cables.
Features:
- Made from fire retardant flexible PVC- Suitable for indoor use- Large internal chamber fits multiple cables- Non-slip ribbed base keeps the cable protector in place- Available in black or grey- Easy to clean  
Installation
 To install, slit open the back of the cable protector with a sturdy blade, preferably a stanley knife. Then simply push the cables into the cable channel.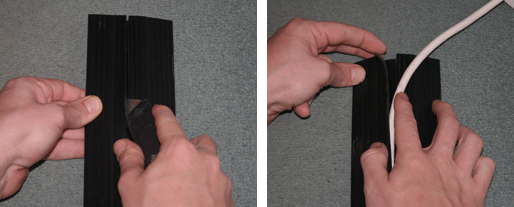 Length

3m or 9m

Profile dimensions (W x H)

80mm x 14mm

Intenal chamber(s) (W x H)

28mm x 10mm

Material

Flexible PVC

UV resistant

No

Surface type

Smooth

Backing type

Ribbed
Posted by:
mandy
|
2016-01-18 12:23:00
Hi
Can you confirm if the cable protector will be delivered in length strips eg 1 meter long rather than being delivered in a coiled up roll ?
Many thanks.
Administrator
Hi, the cable protector is delivered coiled up in a roll, not flat.
Posted by:
Greg Moger
|
2015-09-22 10:08:28
Is it UV stabilised as needed for outside use?
Administrator
This product is not UV stabilised so it will eventually crack and become brittle if left outside. All the other products in this range are UV stabilised so would be better for permanent outdoor use.
Posted by:
Ernest Lopez
|
2014-03-26 12:05:01
I am interested in purchasing this product.Thus, require to know the price per metre. The thing is, that I need this cable
protector to cover the cables of my electrical
dual motor Regent sofas, which are hitherto
trailing on the of my lounge. Thank you
Administrator
Hello Ernest,
The price is £9.52 per linear meter.
Kind regards
Harry
Your question has been successfully sent!
Customers who bought this product also bought:
4 other products in the same category:
Recent Blog Posts
Our new safety products in response to the COVID-19 coronavirus outbreak