COVID-19 Workplace solutions - Getting back to work safely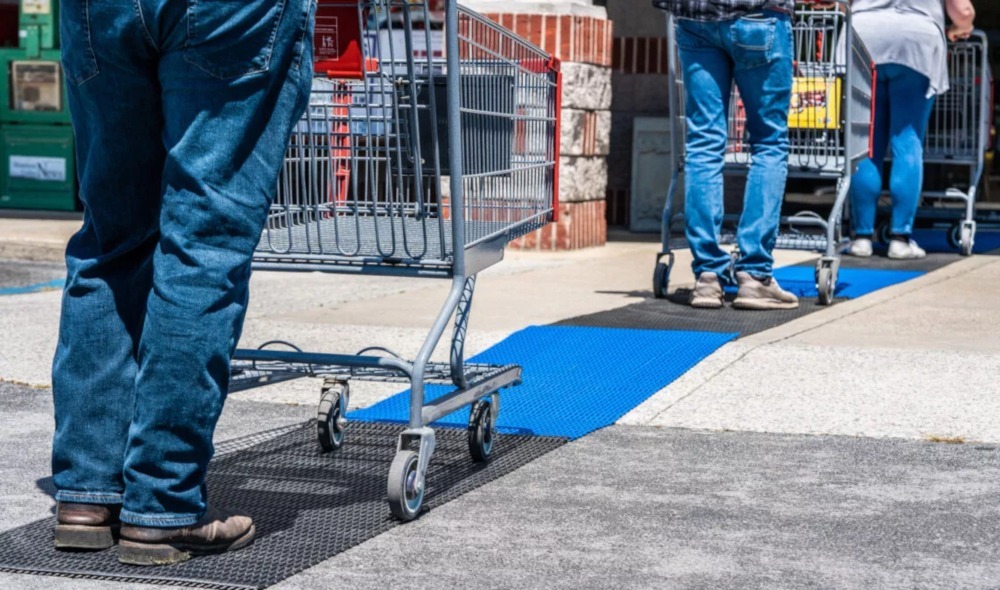 During the COVID-19 coronavirus outbreak, we must all do what we can to stop the spread of the infection. It has never been more important to observe safety and hygiene practices, especially when entering and navigating buildings. According to advice from the World Health Organisation, the risk of infection is higher in indoor environments. This means that extra measures are necessary to help all building users navigate this new environment in a way which minimises risk to themselves and others. Under the current circumstances, simply telling people what the rules are is not enough.
Entering a supermarket or other place of business these days is already a very different experience from what it was just a few months ago, and can in itself be a worrying prospect. The first thing you will likely ask yourself before going anywhere is whether it will be possible to maintain a distance of 2 meters from everybody else while you are queueing to get inside and going about your business once you are inside. This will entirely depend on the strategy and provisions made by the organisation responsible for the premises. How confident do you feel that your destination will have a practical plan in place to ensure all safety guidelines can be adhered to? A lack of confidence that such a plan has been implemented may deter people from visiting a premises altogether.
With this in mind we have launched a number of new products to help everyone get their premises ready for the eventual return to our daily lives; including getting the nation back to work and children back to school.
An increasingly common sight in our daily lives, our range of floor signs and floor stickers form an integral part of any COVID-19 coronavirus safety strategy. Made from a durable vinyl material with an anti-slip laminated surface, they are a safe and unobtrusive way to communicate essential safety messages with eye-catching high-visibility graphics. Not everyone is able to judge what the recommended safe distancing actually looks like in practice, so place these floor signs on your floor every 2 meters to provide a visual guide to your building users.
Floor marking tape is an excellent way to clearly and unobtrusively demarkate different areas on your premises to manage queuing areas and circulation around your building. In many cases, a simple floor-based application is just as effective as physical barriers at helping people navigate your intended circulation routes. We have expanded our range of floor tapes offering a greater choice of widths and colours, making it easier to create a floor marking system that stands out from your existing floor. Can be applied to both hard floors and carpet. Also suitable for outdoor use.
We are proud to introduce the new Flexipath and Crossgrip Line products, two social distancing mats specifically designed to comply with the UK government's social distancing guidance of maintaining a minimum distance of 2 meters. These runner mats are available in lengths up to 24 meters, making them ideal for queuing areas, corridors, walkways and pretty much anywhere that people will be standing, walking and congregating. They are also perfect for industrial applications and can help maintain safe distancing along workbenches, production lines and even office spaces.
Also in this range is the eye-catching digitally printed Keep Your Distance Mat, which can be used individually or placed end-to-end to create longer runs. 
Hygiene has never been more important. Washing and desanitising your hands has become routine for everyone these days, but it is important to provide facilities to allow everyone on your premises to maintain clean hands throughout the day. Hand washing and sanitising stations need to be clearly highlighted to remind people to use them. Drips and spillages near these stations are a common slip hazard, which is why these absorbant nylon pile mats are the perfect choice for your floors. The Wash Your Hands Mat and the Sanitising Point Mat both help to highlight hand cleaning stations and catch any associated drips, serving two important purposes.
The COVID-19 coronavirus can survive on hard surfaces for several days, including floor and ground surfaces. And given that most airborne particles containing the virus eventually settle on the ground, due awareness of walked-in contamination is advised. Using contamination control mats is an effective way to prevent the spread of the virus throughout a building's floors. 
Recent Blog Posts
Our new safety products in response to the COVID-19 coronavirus outbreak
Product added to wishlist
Product added to compare.